Clamshell Packaging
In a world of commodity packaging innovative and fresh merchandising solutions are critical to your companies success. That's why we specialize in custom packaging solutions because they are a proven merchandising tool that will help sell more product while differentiating you from your competitors.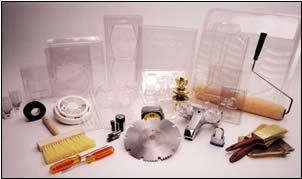 Sealed or Friction Lock Design
FDA approved material available for food grade packaging requirements
Product Insertion/Fulfillment Services
Unique concepts and large cavity requirements are "easy"
Merging two products into one single Unit/package for promotions is what we do best.
We can handle your finished product's storage, along with shipping requirements to your customers.